Following a long stretch without a drop of rain, we woke on Sunday to find ourselves splashing about like ducks! Of course, for gardeners everywhere it was long overdue and more than a little welcome, but we at Cantique had a busy day ahead so we put on our macs and loaded up the car with music bags, music stands, and all the usual paraphernalia needed for a typical Cantique rehearsal.
It was our assemblée générale rehearsal and a bean feast all rolled into one. In truth, I suppose we were all looking forward to feasting on what we knew would surely be a wonderful lunch provided by Veronique from Le Relais de la Tour at Champsac, so there was a great incentive to sing well and move on!

The AGM was a short one and passed off efficiently without delaying us too long, although the smell of the food was by this time wafting through the room and I for one was hungry! Soon we were seated and happily filling our mouths and stomachs with a fine repas.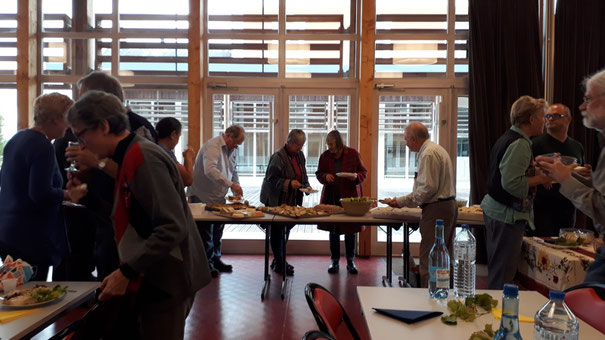 When we came out of Jaques Brel in Rochechouart the rain had stopped, the sun was in evidence, and the day had turned into one which just showed a tinge of Autumn. I think I can speak for many when I say that it was a good day.
A few comments from some of our singers ...
| | | | | |
| --- | --- | --- | --- | --- |
|   |   | The copious cold buffet which followed our meeting gave us the opportunity to socialise. An event worthy of repetition and proved a very convivial occasion. —Anon |   |   |
|   |   | I thought that yesterday was a great success. The food was good and good value. Everyone seemed to enjoy themselves. —Steve Nicklen |   |   |
|   |   | A lesson in mixing business with pleasure! —Anon |   |   |
It seems I was not the only singer to have enjoyed our day.
A.C.